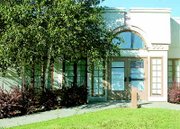 GRANDVIEW - Prosser Memorial Hospital has purchased a building in downtown Grandview, previously owned by Yakima Valley Farm Workers Clinic.
The building, located at 300 Division Street, was known as Casa de Esperanza, an outpatient clinic for drug and alcohol treatment, according to hospital CEO Jim Tavery.
While the exact nature of the use of the building is not available right now, Tavery said that a proposal for the building's use will be given to the hospital board in two months.
Tavery said the deal closed in mid-May.
According to the Yakima County Assessor's office, the building was purchased for $300,000.
Ironically, the hospital recently asked Grandview City Council for $133,000 in stop-gap emergency funding for ambulance services. They approached the Prosser council and Benton County commissioners as well, and plan to ask Yakima County commissioners, Sunnyside Community Hospital and Kadlec Medical Center for funds to help continue ambulance services.
During a hospital board retreat last fall, board members outlined priorities and projects for the coming year. It wasn't until late fall that the hospital had learned it had been reimbursed too much money by Medicare in 2004 and 2005, to the tune of about $314,000. That money has to be paid back to the federal government. Hospital officials also learned that Medicare will only pay 70 percent of costs for ambulance services. In other words, Tavery said, receiving the bills and learning that Medicare reduced the amount of reimbursement costs was a complete surprise.
Despite learning the financial impact for emergency services, it didn't derail moving forward with the hospital board's goals.
"We absolutely want to expand services in Grandview and that's part of our strategic plan," Tavery said. "But what those special services will be has yet to be determined."