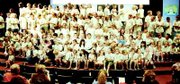 After participating in Sunnyside High School's Drama Camp last week, the 140 students performed one last show this past Friday for parents and friends.
The ninth annual Drama Camp was titled Drama Safari and the drama camp participants wore tan colored shirts and safari hats. The 140 campers were split into six groups; the Scene Stealers, Stars, Amazing Actors, Hollywood Hotshots, Triple Threat and The Academy.
Each group came on stage and first performed some basic acting skills they learned during their week of drama camp.
Camp director Maisy Sylling said her 30 volunteer high school camp counselors spent the week teaching the campers how to choreograph the dance scenes. The counselors also taught the students acting, craft classes and came up with games for the children to play throughout the camp.
"This was a lot of fun," Sylling said.
After each group did some basic acting skills, the participants went into their own song and dance, with each song dedicated to what a person might see on a safari.