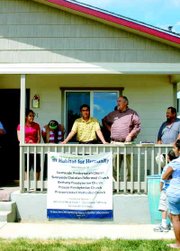 Habitat for Humanity representatives, well-wishers and the Roman family gathered at 91 Carousel Lane Sunday afternoon for the official dedication of the family's new home.
Yakima Valley Partners Habitat for Humanity Executive Director Mike Nixon said this is the 113th home the organization has built.
Habitat for Humanity Board President Nibbs Menard referred to the day as a joyous occasion, as he put it, "a day these people will remember for the rest of their lives."
Construction on the home began in January and was sponsored by several area churches, including Presbyterian churches from Sunnyside, Grandview and Prosser, as well as the Sunnyside Christian Reformed Church and the Prosser United Methodist Church. Co-sponsors included Sunnyside's American West Bank and the Grandview and Sunnyside Safeway stores.
But it was Leroy and Ruth Ganzer who donated the rural Sunnyside property the home was built on. "Without them we certainly wouldn't be at this location," said Nixon.
Once Michael Roman and Consuelo Sanchez expressed their interest in the home and were selected, Nixon said the home they were living at in Wapato burned down.
During the dedication, the family was presented with a bible, under the belief that the Lord is to be the center of the home, Nixon said. They were also presented with a special key chain with which to hang the keys to their new home.
As a special surprise, representatives from the Grocery Outlet in Yakima presented groceries and household items to the family, as well as a $100 gift card to the store.