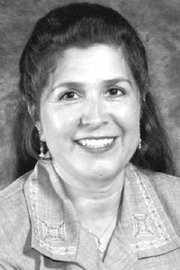 With nearly 18 years of banking experience, Michelle Rebol-Rhode joined the Sunnyside branch of Columbia River Bank in Sunnyside yesterday (Monday).
A lifetime resident of the Yakima Valley, Rebol-Rhode will serve as a personal banker at the Sunnyside location.
"I am very excited to be a part of the Columbia River Bank team," the married mother of two grown children said.
Sunnyside Branch Manager Verden Haddox added, "We are very excited to have Michelle on our team and are looking forward to her helping us grow our customer base and deposits in Sunnyside."
Haddox added that Rebol-Rhode came from another small bank and fits in well with the current staff.
Columbia River Bank currently operates 24 branches in 17 markets located in Washington and Oregon. Columbia River Bank opened its Sunnyside branch office in May 2006 and has grown well enough that new ground will be broken to build a new branch of Columbia River Bank across from Wal-Mart on Lincoln Avenue in Sunnyside. The current building being occupied by the bank is being leased.
Haddox said he anticipates that ground will be broke sometime in August and is guessing construction on the new building will be completed by January 2008.