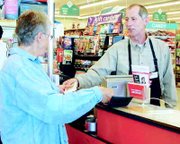 What was supposed to be a temporary night job at the Sunnyside Safeway for Reinie Kielstra culminated into 35 years of service, which will come to end July 12.
"It was just going to be a temporary job and here I am," said Kielstra, whose retirement is a mere two and a half weeks away.
For the first three years, Kielstra worked nights. But he's been working day shift for the past 33 years, which is one of the reasons why he stayed. He simply enjoyed the hours.
For 18 years, he had split days off, Tuesdays and Sundays. But that all changed and he now works Mondays through Fridays.
Kielstra manages the frozen foods section for the first several hours of his shift, then works as a clerk. On Wednesdays, he only works as a checkstand clerk.
Kielstra enjoys the banter with the regular customers, which is, as he puts it, one of the highlights of the job.
Kielstra's not planning on staying retired. He enjoys wave-running, which is a fun whim he plans on indulging for the first month after retiring from Safeway. But after that, it's likely Kielstra will find a part-time job. "I haven't decided where. I just can't live a life of leisure," he said.
Kielstra has lived in the Sunnyside/Outlook area nearly all of his life. A little known fact about him is that he was born in Holland and moved to this area with his family when he was just a toddler.
Today, he makes his home here with his wife of 32 years, Nancy. They also raised their children, Brandy and Lindsay, here.