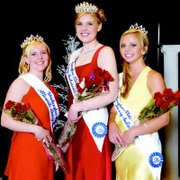 LYNNWOOD - The 52nd Washington State Dairy Ambassador was selected at the dairy industry's annual gala event last Friday, June 22, at the Embassy Suites Hotel in Lynnwood. Kalin Fohn, 18-year-old daughter of Arnold and Ronda Fohn of Mt. Vernon, was selected as the 2007-08 Washington State Dairy Ambassador.
Fohn represented the dairy farmers of Skagit/Island as their county ambassador for 2006-2007.
Whitney Chamberlain, 18, representing Grant/Adams Counties, and Tasha Daniel, 18, representing the Yakima Valley, were selected as Co-Alternate Washington State Dairy Ambassadors.
As the the official ambassador for milk, Fohn will represent the state's second largest agricultural commodity during appearances before schools, businesses, civic organizations and the media.
Fohn's response to winning the State Dairy Ambassador title was, "I am honored to be chosen as the Washington State Dairy Ambassador
"This year I am looking forward to representing the dairy farmers of Washington and informing consumers of the important role dairy products play in our daily diet".
Also competing for the title last Friday were Leah Gordon, representing Grays Harbor County; Maryann Woelk, representing Inland Northwest; Marie Will, representing King/Pierce Counties; JoEllen Daniels, representing Lewis County; Hannah Zorn, representing Snohomish County; and Lacey Vander Veen, representing Whatcom County.
Judges for the event were Pete Kent, Director of Marketing and Communications, Oregon Dairy Products Commission, Jesse DeJager, Past President of Oregon Dairy Women and dairy producer from Jefferson, Ore., and Phyllis Carbone, Olympia, retired educator and past Washington State Dairy Princess Coordinator.
The Washington State Dairy Women's organization was established in 1954 to inform consumers of the nutritional value of dairy products through promotional and educational activities such as the Dairy Ambassador Program. The organization is comprised of 13 county units with 225 members and is headquartered in Toledo, Wa.
photo courtesy of the Washington State Dairy Women
Pictured left to right are 2007-08 Washington State Alternate Dairy Ambassador Tasha Daniel, 2007-08 Washington State Dairy Ambassador Kalin Fohn and 2007-08 WAshington State Alternate Dairy Ambassador Whitney Chamberlain.