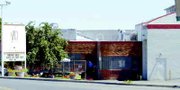 Sunnyside's Apex Cellars won't be in Sunnyside any longer, as it is moving to Prosser.
"We are moving to the Port of Benton's wine loft," said Apex owner Harry Alhadeff.
He said the reason for the move is that the current location at South First Street and East Lincoln Avenue is "too big for Apex's needs."
Alhadeff stated that the new location is a "central hub" for Washington wines, featuring winemaking facilities and a retail area for the winemakers.
"There is enough room for seven wineries," he stated. "Currently, it houses Thurston-Wolfe, Olsen Brothers Estate and Willowcrest."
Milbrandt of Mattawa and Apex Cellars are both moving into the facility, and Alhadeff said he feels it is a great fit.
"People can walk from their hotel to several facilities without driving and getting out of their car at several stops," he said of the convenience of the location.
"We are booming excited about this move," Alhadeff added.
As to the future of the current Apex Cellars building in Sunnyside, he said the facility has already been sold, but he was not sure as to whether or not it had yet been a recorded transaction.
Upon further investigation, his suspicions were confirmed, and the new owner has not yet been disclosed by Yakima County officials.
"This is a rare treat for wine connoisseurs to have so many wineries in one location, and I strongly encourage the public to visit the wine loft's current wineries," Alhadeff concluded.
He said Apex plans to open its doors to the public before Labor Day with a celebration.