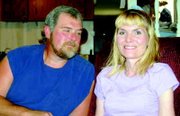 GRANDVIEW - Rodney and Lynn Walker aren't asking for much. In fact, they really haven't asked for anything; they've focused on caring for Lynn since her diagnosis of Lou Gehrig's disease back in November 2005.
But Rodney's mother in Tennessee, Patricia, is appealing to the "Extreme Makeover: Home Edition" officials, asking that they work to better the living conditions for Lynn, who lives with her husband and two children in a single wide, three-bedroom mobile home in Grandview.
"Their place isn't big enough for two, let alone what they are doing now," explains Patricia. "The two kids need to invite their friends over and play, which is not an option now."
Patricia sent out an email petition in early June and asked people to add their name, their town and state, and forward it back to her.
The response has been tremendous, Patricia said. "500 signatures have already been sent in and there are another 1,000 (ready to be sent)," she said.
"They're coming from all over the place," she added.
A brief visit to the Walkers' home confirms the need for more space. Lynn can't walk or move on her own. Discerning what she's trying to say is a challenge. Most of her days are spent in a recliner in the 6 x 8 living room. Nearby in the 6 x 6 kitchen is Lynn's special wheelchair.
While visiting, Rodney points to the small hallway leading to the kids' rooms and says, "She hasn't been down the hallway in the last year. She used to go back there and read and play with the kids." He points to the other side of the house, where he and his wife's bedroom is and says, "She hasn't slept in our bed but maybe eight times this year."
But their happiness and cohesiveness as a family is equally evident, maybe even more so, when entering the small Walker home.
Their son, James, 15-1/2, cracks jokes and picks on kid sister Amber, 10. He places tin-foil over her face to make a sculpture and everybody laughs. He stops and takes a moment to help feed his mom, then it's back to play.
Taking care of Lynn is a family task. Everyone helps take care of Lynn's hair and make-up, and even James is willing to paint her long, beautiful nails. Despite her illness, she's beautiful, and perhaps part of that is due to the seemingly never-ending smile.
"She's had that smile ever since I can remember," says Rodney, whose been with Lynn for 22 years. Affectionately, he calls her "my Barbie doll."
Rodney said the disease affects nerves that make the muscles move, ultimately causing them to atrophy (stop functioning).
"When this hit, we were just a common family, both of us working, trying to make a living," says Rodney. They loved to hunt, fish and go camping, always on the go. The living room is filled with pictures from their adventures, photo albums are everywhere and everyone jokes about how Lynn used to take pictures of "everything."
The disease has hit her and the family hard and fast. Says Rodney's mom, "One day she's playing with the kids and boom, it just hit her."
She went from a cane to a walker to a wheelchair in rapid succession.
Lynn worked at the Safeway store in Sunnyside for 18 years prior to her illness. When she found out about the disease, she left her job to enjoy time with her family.
If the Walkers could have their druthers, they'd be living out in the country, in a home with wide-open spaces in which Lynn could go from room to room. If that's not possible, widening the whole trailer would be a blessing, as well, Rodney said.
They're now getting help from a home healthcare aid and Hospice, as well as friends and church members. They're eager to learn the outcome of the petitions to "Extreme Makeover: Home Edition.
In the meantime, Rodney says it's undeniable that Lynn's illness has brought them closer together as a family, more so than they ever thought possible.
And maybe, just maybe, Lynn (who is in the final stages of her illness), will get to see that dream home out in the country.