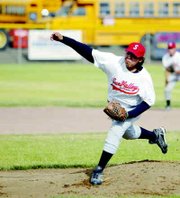 Eight costly errors and three scoreless innings proved to be the downfall for Sun Valley as they fell to Richland's Harrington's Trophies 18-13 last night.
The two teams combined for 25 hits in last night's slugfest but Sun Valley failed to score in the first two innings and the fourth while Richland was able to score at least one run in every inning.
"Harrington's hit the ball well," Sun Valley Coach Tom Schmick said. "They're one of the top teams in the league."
Alex Aguilar got the start atop the hill and picked up the loss for Sunnyside. He pitched four innings, recording four strikeouts, walking three batters and giving up seven hits. Eight runs scored under his watch but only six were charged to Aguilar.
Jaime Sarmiento would relieve Aguilar in the fifth inning. He pitched the final three frames, walking three batters and allowing seven hits. Nine runs were charged to Sarmiento.
Sunnyside fell behind 5-0 after two and one-half innings but came back with four runs in the bottom of the third.
Luis Valles started things off by being walked and then he stole second base. Justin Reyes was also walked as the Richland pitcher struggled with his control. With runners on first and second, Travis Jones doubled, which scored Valles. Jasper Rubalcava then had a huge hit for a double that scored both Reyes and Jones. He worked himself to third base and then scored on an Andre Sarmiento sacrifice fly.
Harrington's quickly extended its lead again with three runs in the fourth and four runs in the fifth to stretch their lead to 12-4 before Sunnyside could score again.
In the bottom of the fifth frame, Valles led off with a single. Reyes then smacked a double, which almost scored Valles but he was thrown out at home. Jones would score Reyes on a single and then Rubalcava doubled, scoring Jones. Rubalcava was able to score on a fielder's choice.
Sun Valley was within five runs but Richland went up by 10 in the top of the sixth. Sunnyside was able to score three more runs in the bottom of the frame but Richland came back for one run in the seventh to lead 18-10.
Lane Pickel started Sunnyside's home half of the seventh by taking a free pass to first base. Matt Bermudez came up next and doubled. After an out, Jaime Sarmiento was walked, loading the bases. Chance Graff was then hit by a pitch, which brought home Pickel. Jonathon Paxton hit into a fielder's choice, allowing Bermudez to score. Valles then singled, scoring Sarmiento for Sun Valley's last run in the game.
"The major issue in the game was those eight errors," Schmick said. "We made more errors last night than we have in the last four games."
Rubalcava had a great night, hitting 3-for-4 with three RBIs. Jones followed by hitting 3-for-4 with two RBIs. Valles was 2-for-3 with two RBIs, Jaime Sarmiento went 1-for-2, Matt Bermudez was 1-for-1 and Reyes went 1-for-4.
The loss drops Sun Valley's record to 7-11. Sun Valley will host Prosser tonight at 5:30 p.m. The Sunnyside team will then finish its season with a tournament in the Tri-Cities this weekend.
Corey Russell/Daily Sun News
Alex Aguilar hurls a pitch to a Richland player during the first inning of play last night. Aguilar went four innings, striking out four batters and giving up six earned runs.
&nbsp