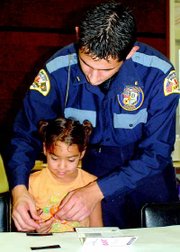 The Sunnyside Library turned into a CSI lab for a few hours this past Tuesday during its ongoing summer theme of "Get a Clue."
Librarian Amy Ravenholt explained, "With the popularity of the CSI types of shows on TV we thought it would be interesting to have the kids experience it a little."
But the afternoon wasn't just about dusting for prints, as the program partnered with the Sunnyside Police Department's Explorer program to provide identification cards for each child.
Name, address, age, phone number, photo, height, weight and fingerprints were recorded for each participant so their parents will have a permanent record in the event the child goes missing. There was also space where parents could place a child's hair sample for DNA purposes.
Jonathan Saucedo was one of the youngsters who got in on the CSI fun Tuesday.
"It's a good idea," he said of the identity cards, making it easier to identify a child if he or she got lost, hurt or went missing.
John Fannin/Daily Sun News
Yerania Espindola (L) provides information on her daughter, Yaritza, to Police Explorer Maribel Rodriguez (seated at right) while Police Explorer colleague Eric Desmarais measures the youngster's height.
John Fannin/Daily Sun News
Sunnyside Police Explorer Eric Desmarais takes fingerprint samples from Jonathan Saucedo during the Sunnyside Library's 'Get a Clue' event on Tuesday.