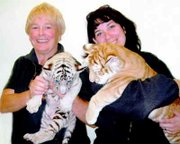 ISSAQUAH - The Cougar Mountain Zoological Park recently greeted two Bengal tiger cubs to its facilities.
One tiger is a Golden Bengal Tiger, and he is one of less than 100 of his species in existence worldwide. He was born April 11.
The other tiger is also a male, born on May 3. He is a Royal White Bengal Tiger.
There are four variations of the Bengal tiger, according to park officials. They are the most commonly known Orange Bengal Tiger, the Royal White Bengal Tiger, the Golden Bengal Tiger and the Snow White Bengal Tiger.
The Orange Bengal is known to have approximately 3,500 of its species in the wild and 8,000 in captivity. It is the most common Bengal in the world, which is orange with black stripes.
It is unknown how many Royal White Bengals are in the wild. Only 400 are known to be in captivity. They are characterized by black stripes on white.
The Golden Bengal Tiger is orange with cinnamon stripes. There is no known number in the wild and this tiger is very rare.
The Snow White Bengal Tiger is the rarest of the Bengals. It is characterized as being all white with faint stripes and only 50 are known to be held in captivity.
Both of the Bengal cubs are the only ones in Washington state and can be seen at the Cougar Mountain Zoological Park in the play area Wednesdays and Sundays at 1 and 4 p.m.
The park allows the public to photograph the tigers and encourages visitors to join in the experience of watching "...as these two males grow from being baby tigers to one of Nature's most magnificent and powerful creatures."