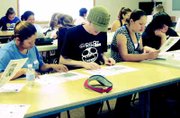 Two youth groups, one from Spokane and the other from Bellevue, were in Sunnyside all of this week to help with Nuestra Casa's English as a Second Language (ESL) program.
Both groups made this program a priority for their summer plans and gained a greater knowledge through their experiences.
Ann LaBeck of Saint Madeleine Sophie Catholic Parish in Bellevue said she has accompanied a group of teens to Sunnyside for the past three years, providing assistance to Nuestra Casa.
"Our parish is mostly upper-middle class white members, and I wanted to give our teens a way to build bridges with others in Washington," LaBeck said.
One youth from her group, Julia Ratcliffe, said a big portion of the Bellevue group traveled to Sunnyside. Because her family is active within the church, she felt a need to help out. She also received encouragement from her sister Kelly, who has taken the trip in years past.
"The trip sounded interesting, and I am learning a lot about the way a migrant worker lives, the process of becoming a U.S. citizen and how much is endured just in reaching the U.S.," said Ratcliffe.
LaBeck stated that a lot of youth groups choose to travel to Mexico during their summers, which can be expensive. But, she felt the needs in Washington could garner similar multi-cultural experiences without having to expend a lot of funds for a trip to Mexico.
"I believe the contact with people who speak Spanish within Washington can be just as enlightening," she commented.
Explaining that Washington is a multi-cultural state, LaBeck said the trip to Sunnyside is a way for teens to "...get outside their neighborhoods and meet their brothers and sisters (in faith) of another culture."
She is hoping the experience will help the teens to become better citizens, while practicing their Spanish language skills and helping Spanish speaking people to learn English.
"This is a really good experience," said Ratcliffe. "I am gaining a lot of knowledge, have learned about myself and have learned to appreciate what I have, such as my family is in the U.S., and they are always available when I need them."
LaBeck said she first became involved with the Nuestra Casa trips because Sister Mary Rita Rohde had been one of her professors in college. "She inspired my desire to help others," she stated.
She heard about Nuestra Casa and said she called Rohde asking, "Hey, do you need help? Because I have youth here who would really like to work with you."
Stating that she brings the youth to Sunnyside not for the personal gratification, but for the learning experiences, LaBeck said she looks forward to continuing the relationship between Rohde's Nuestra Casa group and her church's youth members.
Jennie McGhan/Daily Sun News
Teaching Spanish-speaking women to speak and read English is one of the benefits of traveling to Sunnyside each summer for youth from Spokane and Bellevue. Pictured here are (L-R) Ana Moreno of Sunnyside being helped by Sam Dearmore of Spokane, and Rosa Lopez of Sunnyside reading to Steve Colvin of Spokane.