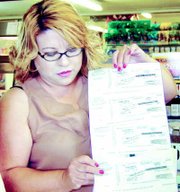 A convenience store clerk working for minimum wage at Valley View Market, Francisca Pedraza said she is now being asked by her employer to compensate the market for the total sum of 12 checks she cashed on Friday, June 15.
The checks were sent back to the market with a stop payment on them. Each of the fraudulent checks bore the Wykoff Farms logo.
Pedraza's account of the evening is similar to two recent cases in Grandview.
The first Grandview case was at Star Foods, and Lucky 7 was the second store in Grandview to have experienced an onslaught of men arriving to cash checks appearing to have been issued by Wykoff Farms.
Pedraza said 12 men came into her store at the same time with checks that appeared to be genuine. She had cashed checks from Wykoff Farms numerous times in the past, and after careful examination determined each of the 12 checks presented on June 15 to be "good checks."
After following procedure in obtaining identification and birth dates of each man, she photocopied the id's and cashed the checks.
The checks were more than $400 each, bringing the total to more than $5,000 worth cashed in one evening.
The 12 men were identified as Jose Rios, Felipe Arriaga, Jose Gutierrez, Roberto Estrada, Luis Asanco, Juan Torres, German Garcia, Ruben Contreras, Alberto Sanchez, Jorge Estrada, Armando Cepeda and Roberto Tello, according to Mexican Consular identification cards they carried. The addresses given for them were all in Grandview.
Pedraza said she contacted the Mexican Consular and asked them about the identification cards and whether or not they were authentic.
"They told me they were all real and now they are trying to get the original paperwork," stated Pedraza.
"My bosses want me to pay them back all the money. Where am I going to get that kind of money?" she asked.
As a clerk for Valley View Market for several years, she said she has never experienced a problem like this.
"I have cashed many Wykoff Farms checks before and not had a problem. How am I supposed to know the company won't pay money when I cash checks that look real?" she questioned.
The checks appear to be computer generated with a signature stamp, leading one to believe they are genuine.
Pedraza sent Wykoff Farms copies of the identification cards because she believes the men may be working there or someone there may know them.
Pedraza has filed a case for each check with the Sunnyside Police Department and has provided them with all the information she has about the men. She is hoping someone will be able to help her in holding the men accountable.
She has also posted a sign stating Wykoff Farms checks will no longer be honored at the convenience store.
In the meantime, Pedraza is concerned about her job.
"I have been doing everything to get this taken care of. I have been in contact with the Mexican Consular and filed police reports. But, I cannot afford to pay this kind of money," she concluded.
More like this story