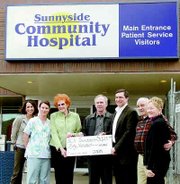 Canam Corporation donated $50,000 to the Sunnyside Community Hospital Foundation's Urgent Care Center yesterday (Wednesday).
According to the hospital's development director, Bill Flower, the hospital serves a nine-mile radius of Sunnyside, including the communities of Grandview, Mabton, Granger, eastern Zillah and Sunnyside. It also serves residents of the eastern portion of the Yakama Indian reservation into the Satus and the community of Bickleton.
The project to remodel the emergency department is a $3 million undertaking and will separate fast track urgent care from emergency care, Flower said.
In 2005 and 2006, the emergency department treated 17,000 urgent care cases and 600 emergency patients.
Flower said that proposed changes meet newly defined privacy standards with six urgent care exam rooms separated from the emergency area.
"Canam is happy to make this $50,000 gift to Sunnyside Community Hospital for addition of an urgent care facility," said Canam President Sam Blatchford. "Our employees and their families are our most important asset and we understand that having a first class health care facility is vitally important to the stability of our company families," he added.
Canam Steel Corp was founded in 1960 at St. Geodeon de Beauce, Quebec, to fabricate steel joists. Through a series of acquisitions, mergers, and sales, the company has transitioned through manufacturing semi-trailers, manufactured composite floor systems, and fabricating steel decks and joists to the fabrication and erection of structural steel components for buildings, bridges and the identification, development and marketing of advanced technologies in steel construction.
Today, Canam is an industrial company operating 11 plants in the design and fabrication of construction products and solutions with sales in excess of $1 billion.
Canam purchased Sun Steel in Sunnyside in 1997 as an initial investment in the Washington state economy. Sunnyside operations has grown since that time from 92 employees to 171. The Sunnyside plant had $30 million in sales in 2006.
Roger Roudebush, Vice President and General Manager of Canam-Sunnyside operations, said his business is delighted to be in and part of the local community.
Of the business, he said, "Canam is a recognized leader in the design and fabrication of building solutions...we are distinguished by our versatility, the high quality of our products, our continuos innovation, our exceptional customer service and the experience and dedication of our employees."
Roudebush said the business serves the entire west coast and well into the mid-west, the plains states and Alaska.
&nbsp