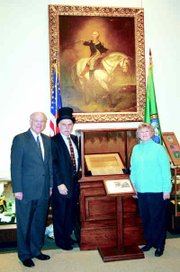 Interesting facts and artifacts can be found in our State Archives. Archives store the data, documents, pictures and objects important to our history.
One document I didn't know about was brought from our archives to the Secretary of State's office across Capital Way accompanied by troopers. It is the oldest letter we have.
This letter is taken from its controlled storage place every year on Feb. 22 (Washington's birthday) for display just for that one day. It was handwritten by General George Washington on Nov. 8, 1777. The inside address line says "Camp at White Marsh, 12 miles from Phil."
The letter was written to General Nelson when British General Howe was settling down in Philadelphia for the winter. General Washington wished to surround the city with troops to force General Howe's army out or at least "greatly distress" them. His great worry, however, was for his own troops.
The recent events in the north had brought victory with British General Burgoyne surrendering at Saratoga. In addition, the colonial army along the Delaware River had driven stakes into the river bottom grounding two British warships, silencing their guns. Washington wanted to take this opportunity to make an assault on Howe and his men, but his troops could not surround Philadelphia in their "poor ragged & half naked" condition. He asked that the states "contribute its aid towards clothing of them, being well persuaded that unless the several states give their assistance, we shall be in a very unhappy situation shortly."
We know from history that General Howe attacked him instead. Led by Washington and in good order, the Revolutionary force moved back several miles to a place called Valley Forge. We all remember from history the bitter winter they endured there.
General Washington ended his letter saying, "The enemy are using every effort for the reduction of those forts & we, under our present circumstances are doing all we can to save them. The event is left to Heaven."
I saw the letter written in our first president's own hand. I read where he is pleading for clothing for his men. I felt sorrow for their situation and pride because they endured it. I am also proud that our state is named for such a leader.
It almost wasn't. At the time that Oregon was preparing for statehood and the huge territory left over was being named, the settlers had always referred to Oregon and North of the Columbia to give their address. Those north of the river wanted Columbia as the name of their state and sent that as a resolution to Congress.
Isn't it ironic that Congress thought Columbia would be confused for District of Columbia? They had the idea of naming the territory north of Oregon for the first president and the rest of the old Oregon territory for Lincoln, thus honoring two presidents. That didn't happen so we are the only state named for a president.
This letter from George Washington has been on permanent loan from the National Society of Colonial Dames. That organization presented it to our state on the 200th anniversary of its writing. I thank them for it!
Jerri Honeyford, wife of Sen. Jim Honeyford (R-Sunnyside), provides her Across our State column as a means to keep local residents informed on what is currently happening in Olympia.