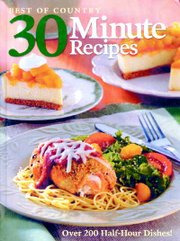 It's pretty much a given that if you hand me a cookbook that features only 30-minute recipes, I'm going to be delighted. When thumbing through Best of Country 30 Minute Recipes, it's a bonus that the list of ingredients on many of the recipes is quite small.
This bodes well with me. I'm not a master chef and in fact, don't experiment much in the kitchen. My cupboards reflect this in their lack of spices.
Imagine my delight to thumb through this cookbook and actually be able to say, "I've got that. I've got that, too. Hey, I could even make that."
This cookbook is comprised of recipes contributed by on-the-go cooks, people with busy lives that have mastered the art of whipping up a quick and hardy meal.
Many of the recipes cook up to look like they've got a restaurant like quality to their appeal. Case in point: the cheesy zucchini bites.
By slicing the zucchini, scooping out the insides and resting the round green mounds on a cookie tray, stuffing with cheese and topping off with a slice of cherry tomato, these little treasures bake up to be a pretty attractive and colorful appetizer.
Meat dishes are broken up between beef, turkey and chicken, pork and sausage and fish and seafood. This is handy, as I usually know what kind of meat I want to have for dinner on any given night to satisfy a hankering.
Authors of the cookbook were thoughtful enough to add a little icon next to one-dish meals.
Under the soup category, I found one that made my mouth water and it's something I never heard of: white chili with chicken. This falls under the 30-minute category because the beans used in it are two cans of great northern beans. And, again, the ingredients are few, which is a bonus in my kitchen.
Keeping that in mind, I can't believe the cookbook has a trout baked in cream sauce recipe with only seven ingredients. The fish recipes in the book actually make my catches of the day look edible. Normally, I don't cook what I catch, simply because until now I couldn't think of a way to make them tasty.
The peppered rib eye steak recipe has a few more ingredients compared to other recipes, but it's mouthwatering just the same. And since fresh asparagus season is just around the corner, the scallops and asparagus stir-fry recipe is one I'll be trying.
This cookbook is an absolute must have and at $15.99 it's a downright steal. The book features 223 recipes and there's not one recipe that calls for unusual or hard-to-find ingredients. To order the book, call 1-800-558-1013 and specify item number 36517.
Peppered Rib Eye Steaks
Prep/Total time: 20 minutes
Submitted by Julee Wallberg of Reno, Nevada
2 tbsp. vegetable oil
1/2 tsp. paprika
1/2 tsp. pepper
1/4 tsp. each of salt, garlic powder, lemon pepper seasoning
1/8 teaspoon each dried oregano, crushed red pepper flakes, ground cumin, cayenne pepper
4 boneless beef rib eye steaks (about 10 ounces each and one inch thick)
In a large bowl, combine the oil and seasonings; brush over steak. Grill steaks, covered, over medium heat or broil three to four inches from the heat for 7 to 10 minutes on each side, or until meat reaches desired level of doneness. Baste occasionally with seasoning mixture. Stand three to five minutes before serving.
Scallops and Asparagus Stir-Fry
Prep/Total time: 15 minutes
Submitted by Lisa Lancaster of Tracy, California
3/4 pound fresh asparagus, trimmed and cut into two-inch pieces
1 tbsp. cornstarch
3/4 cup chicken broth
1 tsp. reduced sodium soy sauce
3/4 pound sea scallops, halved
1 cup sliced fresh mushrooms
1 garlic clove, minced
2 tsp. canola oil
1 cup halved cherry tomatoes
2 green onions, sliced
1 tsp. sesame oil
1/8 tsp. pepper
2 cups hot cooked rice
Place asparagus in saucepan and cover with water; bring to a boil. Cook, uncovered, for three to five minutes or until crisp-tender; drain and set aside. In a small bowl, combine the cornstarch, broth and soy sauce until smooth; set aside.
In a large non-stick skillet or wok, stir-fry scallops, mushrooms and garlic in canola oil until scallops are opaque and mushrooms are tender. Stir cornstarch mixture and add to skillet. Bring to a boil; cook and stir until sauce is thickened.
Add the asparagus, tomatoes, onions, sesame oil and pepper; heat through. Serve over rice.