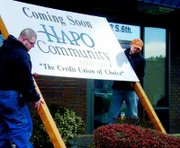 The signs went up at the former American West Bank location at 322 South Sixth Street in Sunnyside this past Wednesday, Feb. 28, announcing the coming of HAPO Community Credit Union to Sunnyside.
Founded in 1953, HAPO was formed to serve non-exempt employees of the Hanford Nuclear Project. The not-for-profit cooperative is a state chartered credit union and serves anyone who lives or works in the state of Washington. HAPO currently serves more than 68,000 members with two centers in Richland, two centers in Pasco, one center in Kennewick and another center in Yakima.
Marketing Director Brian Braunberger said the credit union serves several Lower Valley customers with car loans and thought it would be appropriate to have a "brick and mortar" facility for their convenience.
"We're looking forward to moving into the Lower Valley market," he said. "It is a slow process, meeting the requirements of a city and making structural improvements."
HAPO Chief Operations Manager Nancy Picket said the location of their new branch was purchased in mid-December 2006.
She said after receiving several inquiries from Lower Valley customers, the credit union decided to look into finding a location for a new facility. "We were driving through the city of Sunnyside and saw the building on South Sixth Street was up for sale. Considering Sunnyside is centrally located within the Valley and halfway between Yakima and the Tri-Cities, it seemed a good location," she said. "It seems the most convenient for our members."
Picket also noted HAPO's excitement in the new location. "We have received a great reception from city administrators and the community, in general. It's been kinda fun and we're very excited," she explained.
HAPO Community Credit Union is hoping to open its new branch in June, pending equipment purchases and renovations being done.