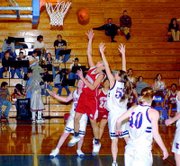 SELAH - The Grandview girls basketball team's ride through the District tournament ended last night in Selah as the Lady 'Hounds lost to league foe Ellensburg.
After beating Wapato last week the 'Hounds needed two wins to advance to the State tournament but came up short against a very good Bulldogs' team, 48-33.
"We just couldn't get anything going," Grandview Coach Tarah Troutman said of her team's first half performance. "We didn't execute our offense. We played good defense but had a hard time getting the ball in the hole."
The second quarter was much of the same as the Bulldogs outscored Grandview 17-7 to take a 30-11 lead into halftime.
Troutman told her team at halftime they had to execute their offense better and work on setting up screens. She also made some adjustments to the defense.
The defensive change-up worked as Grandview was able to get some turnovers but the Lady 'Hounds couldn't capitalize on the fast breaks and again failed to find the basket. Ellensburg was able to stretch its lead to 44-20 to start the fourth quarter, all but putting the game out of reach for Grandview.
The Greyhounds did start to get the ball inside more in the fourth quarter but the hole was too deep. The Bulldogs started playing their bench players midway through the fourth en route to Grandview outscoring Ellensburg 13-4 in the final stanza.
"They're a great team," Troutman said of Ellensburg. "I can't take anything away from them. We needed that third person to step up for us, but no one did."
Kinzi Poteet led the Lady 'Hounds with 11 points and senior Cristina Meza added 10 points.
Grandview finishes the season with a 7-16 mark, including a 1-2 record in Districts.
"That win is a huge stepping stone for next year," she said of her team's one victory in the postseason. "The girls got a taste of the playoffs and we'll be able to build on that."
Troutman also noted her team is very young with only three players graduating this year. Marissa Herrera, Danica Rodriguez and Meza are seniors this year.
"We have a lot of talent and experience coming back next year," Troutman added.