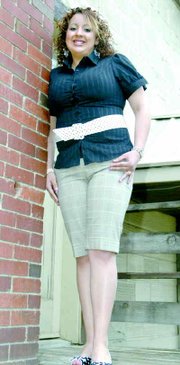 Having the opportunity to become the 2007-08 Sunnyside Miss Cinco de Mayo means a lot to Jamie Valencia.
The 16-year-old sophomore at Sunnyside High School knows how much the fifth of May means to her family.
"It means a lot to my family," she said. "We get together and use it as an excuse for a family reunion. To me, it means family, here and in Mexico."
Valencia said she would like to be named Miss Cinco de Mayo so she can represent her community. She also wants to represent her family and all Hispanics.
If she were to be named Miss Cinco de Mayo, Valencia said her service project will be working with the residents of Hillcrest Manor, something she has done for several years already.
"I started going as part of my community service for my first communion," she explained. "I got so attached to the residents I kept going."
Valencia likes to visit the residents at Hillcrest Manor and play bingo or do ladies hair and nails.
She considers her mother her one and only role model. Her mom came to the United States from Mexico and has raised four children by herself.
"She works all the time but is still there for us," Valencia said.
Valencia holds a 3.5 GPA and said her favorite class is English.
"I love to read and write," she admitted.
Her favorite book is titled, "The Body of Christopher Creed."
Her school activities include the French club, the pep club and the ski club. She is also the manager for the Sunnyside High School girls soccer team.
Her hobbies are writing and reading, talking on the phone and playing tennis. She plans to play for the Sunnyside High School tennis team this year.
After high school Valencia said she wants to attend Washington State University and study international business. She would like to have a job that will allow her to travel, and she hopes to work and live in France one day.
For her talent in the Miss Cinco de Mayo Pageant, Valencia will read a poem in Spanish that she wrote for her mother. The poem is about her mother's life.
She is the oldest child in her family and has three younger brothers.
Valencia said she is looking forward to gaining new insights and friends while competing in the Miss Cinco de Mayo Pageant.
"I'm looking forward to the experience more than the competition," she added.