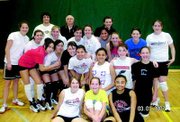 Things are going smoothly a few months into the newly formed Sunnyside Volleyball Club, which formed late last year.
According to co-director Kristin Luther, the club has three teams for youngsters 14 to 18 years of age.
Try-outs for the teams take place in November and the girls began tourney play in January, which will continue until May.
But, as Luther puts it, it's "hard-core volleyball." Rather than a two-hour game, tournament play is all-day volleyball for one day and sometimes two days. And it's always on weekends, which requires a certain level of dedication on behalf of the parents and players.
Luther said that, more often than not, the age of the girls depends on how far they travel to play. In the 18-year-old bracket, the players are likely to travel further. In the 14-year-old bracket, the players are likely to stay a little closer to home. But, says Luther, really it's mainly up to the parents and what they want.
Luther is a firm-believer that involvement in the club fine tunes skills that are a boon to high school volleyball. And it won't just elevate Sunnyside players, the club is open to students from other communities and even has individual players from Granger and Prosser.
Luther also said it's a positive experience for the girls in that they're playing with girls they wouldn't normally play with. "They've gotten some really good skills and they've gotten to know new people," she said. "It's been a good experience for everybody, with girls and parents getting to know one another."
Luther said that following the initial year, changes will likely take place. This year, all of the coaches are volunteers, and she'd like to see that change to paid. But, with this comes fundraising ideas.
The club's on top of it. Next week, they'll begin selling tickets for a raffle with three prizes. The first prize is a limo ride and dinner at Olive Garden on prom night. The second is a spa massage and pedicure, and the third is a 144-piece tool kit.
To purchase a ticket, call Luther at 830-6427 or Brenda Myers at 839-4175.