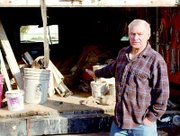 It's not enough that Sunnyside resident Ray Merrill is battling cancer, again.
No, some local hoodlums made sure to increase his burden by stealing nearly $2,000 in painting equipment while Merrill was in Seattle receiving treatment.
"Ron is fighting cancer," said his pastor, Nick Paulakis of Calvary Baptist Church in Sunnyside. Paulakis noted that Merrill's pancreatic cancer had apparently gone into remission but is back again. In addition, doctors have found 20 suspicious spots on his lungs that may be cancer.
"The poor guy, he's over getting treatment for cancer and then somebody breaks into his truck and steals his equipment," said Paulakis.
Merrill, 68, said the stolen items were an airless paint sprayer, a pressure washer and an air compressor that he uses for his house painting business.
"It's the only way he can make a little money," said his wife, Linda. "You can't live on social security."
Merrill said the thieves cut through two sets of bolts to get to his equipment, which was uninsured.
It marked the third time in the past five years Merrill has been hit by thieves, including one incident in which his van was stolen while he was parked for a few moments outside a church building.
Faith, Merrill said, faith is what gets him through both the bouts of cancer and the thefts.
"Prayer works," he said, noting during his first bout with pancreatic cancer, now more than four years ago, doctors said he only had six months to live.
"The illness is really hard, it's been really stressful," he said. "But we have our church family and they've all been praying for us."
Linda added that she hopes the thieves realize what they've done to her family.
"I hope they stop stealing. I wish they knew what it does to other people when they steal," she said.
Added Merrill, succinctly, "They need to keep their hands off of other people's property."
To lend a hand to the Merrill family, contact them at 837-5051. Paulakis said a fund has not yet been established to help the Merrills.