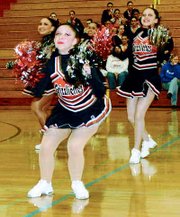 WEST VALLEY - Dancing their way around the floor Saturday, it was easy to see why the Sunnyside High School Grizzliettes dance team is successful.
They placed all their energy and efforts in District competition this past Saturday at West Valley High School.
The first competition the Grizzliettes performed in was the hip-hop competition. The moves were set to a mix of hip-hop beats and the synchronization was spectacular. Focus was evident in their faces and pride gleamed from their eyes.
Unfortunately, the team was disappointed when they learned they had not qualified for State competition in the hip-hop category.
But, they competed in the pom competition and this proved to be what the judges wanted to see. Each team that qualified for State had to score 210 points or more.
The team shined with the moves on the floor and the pom routine was apparently a sparkling achievement. The Grizzliettes scored 217 points and the excitement overshadowed any disappointment experienced earlier.
Smiles and timing ... poms flying and steps in line with each other, the team's hard work paid off.
The Grizzliettes will compete at State on March 23 at the Yakima SunDome.