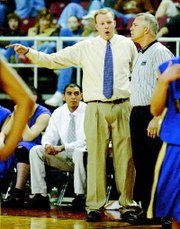 YAKIMA - Mabton Coach Brock Ledgerwood and his team of Vikings looked relaxed and ready to have fun this past Saturday before the start of the fifth/eighth place game at the 1A State tournament in Yakima.
"We're feeling good," he said. "There's not a lot of pressure on us. It's hard to beat a good team three times in a row."
Mabton was assured of a State trophy after no one, except maybe Mabton fans and the team itself, thought they would even be at the State tournament, let alone playing on Saturday.
"This is the fun time," Ledgerwood said.
He knew Riverview, a team that had beaten the Vikings twice already this season, the last being a 57-42 loss in the District championship game, would come ready to play.
His main goal, he said before the game, was to keep them (Riverview) from scoring 45 points.
"If we can do that, I know we can score 45 points," he explained.
Ledgerwood was wrong. The Vikings were only able to score 44 points, but their stingy, smothering, in your face defense held the Panthers to just 37 points, and Mabton walked away with a 44-37 win and a fifth place finish, the highest State placing ever for any Mabton basketball team.
And although Ledgerwood and the Viking players swear it wasn't, Mabton made it look easy.
Riverview's Levi Davis gave the Panthers the lead early in the first quarter when he nailed a three-point shot. After a Mabton basket from Eric Tellez, Nick Gaston, who lit up the Viking defense in the District championship game for 20 points, hit another three-point shot and all of the sudden a Panthers were up 6-2.
The teams traded field goals and Riverview was eventually able to build a five-point lead over Mabton, 10-5. It would be the Panthers' biggest lead in the game and it would be short lived.
Mabton's Ernie Sanchez hit a field goal as time expired to cut the Panthers lead to 10-7.
Starting the second quarter, Juventino Morfin found an open Luis Quintero, who made a lay-up and the Vikings found themselves trailing by one, 10-9.
After the teams traded field goals Riverview led 12-11 when Tellez stole the ball, fed it to Tyler Herrera, who calmly drained a two-point jumper and the Vikings were up 13-12 with 5:08 left in the half. Mabton would never trail again.
With Mabton up 19-12, Frankie Smith was called for a questionable intentional foul, sending Trevor Baker to the line for two shots and a Riverview possession after that. Baker missed the free throws and when the Panthers inbounded the ball, Mike Ledgerwood turned it over and the Vikings avoided a potential five-point swing.
With less than a minute to play in the half Ledgerwood stole the ball but missed on his lay-up attempt and Kyle Gier missed a three-point attempt at the end of the period for the Panthers as Mabton took a 19-12 lead into halftime.
The Vikings outscored Riverview 12-2 in the second period and Ledgerwood said that was due to Mabton picking up the intensity on defense.
"They (the Mabton defense) were always in their (Riverview's) face," he said. "We didn't give them any good looks."
To start the second half, Gaston hit a three-point shot inching Riverview back to within four points but that would be as close as the Panthers would ever get as Mabton would match every Riverview run with one of its own.
Riverview's biggest run started with Mabton ahead by 13 points, 30-17, late in the third quarter. The Panthers ran off eight straight points, cutting Mabton's lead to 30-25, before the Vikings could answer with four points of their own to stretch the lead back to 34-25.
"I told them that was OK," Ledgerwood said, explaining what he told his team after Riverview's run. "We had just given up eight points but we were still ahead by five.
"They (Mabton) were doing everything I wanted them to do," Ledgerwood added. "I never had to call a timeout. We just kept firing at it."
The 8-0 run Riverview made seemed to tire out the Panthers, who never made a serious run after that. The Vikings continued to add to their lead and were ahead by 10 points when Gaston hit a three-point shot with 13 seconds left to make the score look respectable.
Roger Sonderland, head coach of the Panthers, credited Ledgerwood with having a good game plan.
"We couldn't match Mabton's energy," he said. "We missed free throws and we were even worse from the three-point line. A lot of that had to do with Mabton's defense. Mabton beat us in every facet of the game."
The Panthers shot just 33 percent from the charity stripe and hit just 5-of-22 from three-point land. Mabton shot 50 percent (10-of-20) from the free throw line but missed all five three-point attempts.
"Riverview's a good team," Ledgerwood said. "They shoot the ball well and attack very well."
Ledgerwood said he tweaked his game plan a bit this time against the Panthers but nothing major. He said it was basically the same plan, his team just executed it better this time around.
The Vikings played all four of their State games in the early morning. The first three were at 9:30 a.m. and the trophy game started at 10:30 a.m.
"That just shows how tough these kids are," Ledgerwood added. "It's phenomenal what they did."
Tellez, who is a senior and will be graduating this year, was a freshman the last time the Vikings went to a State tournament back in 2004, where Mabton failed to place.
"This feels great," he said of his team's win and high finish. "I don't know how to explain it. It just feels good."
He said the win was just a little sweeter coming against Riverview, noting it was good to avenge the two earlier losses.
Morfin, who led the Vikings in defense and had the most steals in the game, credits his being more aggressive this time around.
"I just tried to stay in front of my guy," he explained. "I played tighter and more aggressive. I gambled a lot and got lucky."
Ledgerwood said Morfin can do it all, play defense, score and pass.
"He's just a tough, tough kid," he added.
Herrera, hero of Friday's game, explained Mabton's win over Riverview this way.
"Coach told us to play with all our hearts and have fun," he said. "We just played Mabton basketball."
Mabton was led again in scoring by Tellez with 11 points, seven rebounds and two steals. Herrera added nine points and eight rebounds. Enrique Huecias had six points and Morfin had five points, four assists and three steals.
Gaston led the Panthers with 15 points and he was followed by Ledgerwood with nine points.
The Vikings finish the season with a 15-13 record. The smallest team in the tournament, Mabton held each team it faced under 40 points.
"To hold these teams under 40 is huge," Ledgerwood said of the competition they were facing. "It just goes to show it's not how big you are, but how big your play.
"They make me look good," he said of his team. "All the credit goes to the kids."
Rick Maldonado, an assistant coach for the Vikings, agreed.
"They're great kids and are very easily coached," he said of the fifth place Vikings.