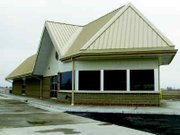 The Washington State Patrol detachment that called Sunnyside home for more than 50 years has moved.
Without fanfare or announcement, State troopers moved from the office here in late January to the new weigh station just east of Grandview on I-82.
It was a move requested by the troopers, said Bill Glaeser, administrator for the State Patrol's property management division.
"It was brought up by local staff of Sunnyside as far back as 2002," said Glaeser. "Sunnyside has grown. In order to respond to something they would have to go through controlled intersections and a school zone to get to the freeway. There was a growing concern for safety."
With the move to the weigh station, Glaeser said the Lower Valley troopers "are in the dead center of their patrol zone."
In addition to safer and quicker access to I-82, the state is also saving money with the move.
"Instead of operating a weigh scale building and a detachment office, we just have one facility," he said. As a result, the state patrol and weigh station staff are able to share utilities and data lines, rather than duplicating them at two different sites.
This is not the first time the State Patrol and Department of Transportation have shared working space.
"We have very similar locations elsewhere," Glaeser said, pointing to a couple of stops along I-5 in western Washington, where mixed uses are combined with weigh stations.
Glaeser said there will be parking designated for public access at the weigh station between Grandview and Prosser.
The Lower Valley State Patrol detachment can now be reached at 509-882-9945. Those dialing the old Sunnyside detachment phone number will actually be directed to an operator in Yakima.
As far as the former Sunnyside detachment office-which Glaeser says the State Patrol bought in the mid-1950s-it will likely be sold.
Glaeser explained that local state agencies will have first crack at buying the building on Outlook Road.
If state or other agencies are uninterested in the building, it would be appraised and advertised for sale.
Though the move from the old to new trooper office was done quietly, that will change in April when an open house and ribbon cutting are planned to celebrate the new digs.
"Hopefully by that time the (state) legislative session will have wound down to allow our legislative folks to be there," said Glaeser. "We'll also invite the Governor and the chief of the State Patrol."