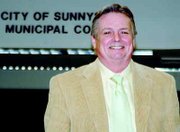 The idea of having a hearing examiner may be new for Sunnyside residents, but it's another day at the office for Gary Cuillier, the city's new hearing examiner.
Sunnyside decided late last year to hire a hearing examiner, a position which became official on Jan. 1 of this year.
Cuillier, 61, is a Yakima native and continues practicing law there. He has been an attorney for the past 36 years and, for the last four, has also served as hearing examiner for cities up and down the Yakima Valley.
He started as a hearing examiner for both the city of Yakima and Yakima County in January 2003, and has since added Union Gap, Grandview, Toppenish and, most recently, Sunnyside to the list of municipalities he serves.
Until adding hearing examiner to his duties, Cuillier practiced land-use law. He said the interest in land use issues stems from work he did for both the city of Yakima and Yakima County between 1971 and 1978.
Since becoming a traveling hearing examiner, Cuillier said he no longer practices land use law in order to stay away from potential conflict of interest issues.
"About one-quarter of my work is hearing examiner and the rest is general practice," Cuillier said. He noted that his Yakima law office tends to handle issues such as estate, business and probate matters.
Sunnyside decided late last year to bring on a hearing examiner. City Manager Bob Stockwell noted at the time that the city's insurer recommended bringing on a hearing examiner to ensure objective decisions related to land use matters.
In addition, Stockwell stated at the time that over the past several years the city had seen an "increase in legal proceedings related to land use items and use of private property."
As hearing examiner, Cuillier has to be familiar with the land use ordinances applied by each municipality he serves.
He said his most difficult cases are "the appeals following an administrative determination." Cuillier added that those cases he hears regarding the meaning of the text in the city ordinance are also among the most difficult. "Those usually involve attorneys, case law and interpreted language," he said. "They can be quite technical."
Cuillier describes the job of a hearing examiner as "kind of similar to being a judge."
He added, "The idea is to listen to people carefully and understand what their points are and be respectful to them. It's not as formal as the courtroom, but it is similar in terms of executing good judgment and respect for the people who testify."
During his first appearance as hearing examiner in Sunnyside last week, for example, Cuillier considered items ranging from an appeal of a decision on a radio tower to recommending approval of a 36-acre rezone.
When not in the hearing examiner's chair, Cuillier said he enjoys the challenges of private practice in the Yakima area.
"What I really like is the variety of having both so I get to switch hats and gears in my profession."