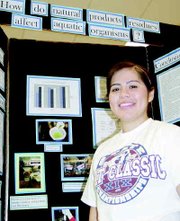 What with Sunnyside being the agriculturally diverse community that it is, Sunnyside High School student Elvira Chiprez decided that for her science fair project, she'd determine how natural product residues affect aquatic organisms. That curiosity, combined with careful, scientific processes, earned her the grand prize in Sunnyside High School's science fair, held this past Monday.
"This was a continuation of last year's project," she explained. That project explored pesticide alternatives that might be better ecologically suited.
This year, she took what she believed to be the most environmentally sound products and tested those against organisms.
The result? "They are killing off most of the organisms I'm using and that's not good," she says.
Chiprez is among several Sunnyside High School students that will trek to the Tri-Cities tomorrow (Thursday) for regional competition.
Chiprez and her peers were judged on creative ability, scientific thought, thoroughness, skills, clarity and visual display-worth 100 points total.
And this year, it was close. Cindy Gudino gave Chiprez a pretty tight run for the money, trailing by only half of a point with her project aimed at removing e. coli bacteria from produce.
Gudino claimed the first place prize.
"They were very comparably equal," says SHS science teacher Joyce Stark. "They (the judges) had to go back and look several times," she said.
Chiprez may have earned the edge over Gudino because of the interview session with the judges this past Saturday. Chiprez said that her nerves were less rattled this year. "Last year I got a lot of experience on how to handle the pressure."
While the interview doesn't count on paper, it does leave the judges with distinct impressions, Stark said.
The team of eight judges was comprised of teachers in the district, as well as scientists from the research station in Prosser.
Other winners in the science fair include Dianna Mendoza, second place, Alejandra Benitez, third place, and honorable mentions to Brenda Barrios, Eric Desmaris, Nicole Southern, Alejandra Alanis and Jacob Rogers.
Stark's looking forward to regional competition. "We've had great luck at regionals," she said.
"We have this tradition of winning. We've been the grand prize winner at the regional or state fair since 1980, so we're hoping for another grand prize winner this year.
"We have the traveling trophy and we have to go back to state and defend it.