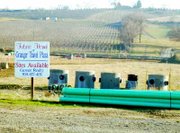 GRANGER - The move is on to build a new truck stop in Granger.
Known as the Granger Travel Plaza, the 21-acre site sits across from a Conoco gas station just off I-82.
Work in progress includes road building and laying pipe for water and sewer utilities. It is anticipated that infrastructure work will continue for at least another 45 days before building construction begins.
The plaza will be built in two phases. Initial plans call for phase one to include a Chevron gas station, Subway restaurant, convenience store and truck stop amenities such as a laundromat and showers.
The second phase is scheduled to include a Taco Bell, Kentucky Fried Chicken or A&W Restaurant.
As part of the project, property owner Paul Sohi of Sunnyside will widen and provide turn lanes for a portion of SR 223 in the vicinity of the truck stop to accommodate additional traffic.