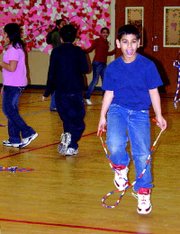 Students at Washington Elementary School have been busy jumping rope this week. It is all for a good cause, too.
Physical education teacher Jean Walker said the students at Washington learned about the American Heart Association's Jump Rope for Heart fundraiser approximately a month ago.
"Some students were so excited they brought in donations the day after they received their envelopes," she said.
The annual fundraiser is to help educate students nationwide about heart health. "We started talking about ways to keep kids healthy about a month ago," said Walker.
Students receive a collection envelope approximately one month prior to the actual fundraising event. They are encouraged to solicit donations from friends and family. "We know there are dangers for the kids to go door-to-door and we discourage it," Walker commented.
Most donations are a flat donation provided to individual students. Walker said that last year's donations garnered approximately $2,400 to benefit the American Heart Association. "All donations go to the American Heart Association," she stated. "We are hoping to raise the same amount this year."
In exchange for the fundraising efforts, students not only learn more about staying physically fit and the importance of heart health, but the American Heart Association gives them gifts for their donations.
"The gifts start out from the five dollar range donation category," Walker said.
The students have some idea of what gifts they will receive. The donation envelopes had an attached sheet illustrating the gift categories. A $5 to $14.99 contribution allows a student to receive a water bottle. Other gifts include a waterproof radio, a t-shirt or a voice changer. Students who raise $1,000 or more will receive a trikke (a three-wheel cross between a tricycle and a scooter).
The student participants have been busy jumping rope each day this week, and they have been enjoying the physical activity.