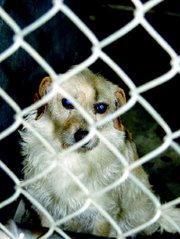 GRANDVIEW - The recent parvo virus outbreak at the Grandview animal shelter only highlights the need for a new facility.
"I don't even know how to explain to people how it doesn't work," said animal control officer Leah Nedrow.
"There's only chain link between the kennels, which isn't a barrier," she said, adding that fecal viruses pass easily from animal to animal, including parvo.
"When one gets sick, it's very likely they'll all get sick."
This is among one of the many reasons for the formation of the animal shelter task force, a group of city staff and community volunteers that seek the construction of a new, more modern facility.
"It works great for what it was designed to do way back when, which was house dogs," she said.
But, the antiquated building located clear out of town at the waste water treatment plant has no ventilation, only one working drain of two, only 10 kennels, no staff bathroom and no on-site water pressure cleaner.
The stench, especially with the current outbreak of parvo, is unbearable to all but Nedrow. "I've gotten used to it," she said, adding that by the time she gets home, her boyfriend can actually smell the shelter on her clothes.
The task force is aiming to design a new shelter, find a more feasible location, raise funds and seek in-kind donations from local businesses.
"We have a really good team of people and it's moving forward in a very positive way," Nedrow said. "Hopefully, we can keep that momentum going."
The current shelter, which is maybe 300 square feet or so, has no room to euthanize. When she has to put animals down, she has to walk outside. "You can't do it in there, they all get so upset. They know what's going on."
The new facility, if the dream becomes a reality, will have a room to euthanize in, 26 kennels and puppy and cat condos. Nedrow's also hoping for a lobby.
Nedrow's got a heart for adopting animals out, and having a place for cats will allow people to come in and get to know an animal, and determine whether or not its right for individual families.
Currently, there are four felines at the shelter that help keep an otherwise abundant rodent population at bay.
Thankfully, of the five dogs at the shelter currently sick with parvo virus, all are spoken for through Out West Pet Rescue in Prosser. Nedrow said that parvo doesn't mean certain death for the dogs, and despite the illness, it appears to be only mild cases.
The next step for the animal shelter task force is to identify people interested in handling the fundraising aspect. The next meeting date has not yet been determined. People interested in volunteering on the task force are encouraged to call Nedrow at the police department.