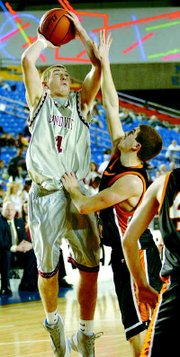 TACOMA - The Grandview Greyhounds found themselves in a precarious position Thursday as they prepared to play the West Valley (Spokane) Eagles at the 2A State basketball tournament. Win or go home.
The 'Hounds, as it turned out, didn't load up their gear after the game for a trip back to the Valley.
After a tough loss to Centralia on Wednesday, the Greyhounds still have a shot at placing fifth, via their 62-58 victory over the Eagles. Thursday's win set up a loser-out game with league rival Wapato today (Friday) at 12:30 p.m. Results of today's game were not available by press deadline.
"I'm real proud of the way (we) bounced back today," Grandview Coach Scott Parrish said following Thursday's victory.
"We weren't too happy with the way we played defense yesterday (Wednesday)."
Thursday's game was close throughout, with West Valley winning every quarter except the second, the one period that really mattered.
"They (Grandview) made some shots, we missed some," Eagles Coach Jamie Nilles said. "It really came down to that four-minute stretch in the second quarter."
Neither team could forge more than a three-point lead in the opening quarter, but the second period the Greyhounds separated themselves from the Eagles. Behind 21-20 with six minutes left in the first half, Grandview went on a 10-0 run, getting solid play from Nick Sears, C.J. Lopez, Zach Poteet and A.J. Valencia. By the time they were finished Grandview was leading 33-25 at halftime and would never trail again.
To West Valley's credit, the Eagles never gave up, though.
In the third quarter Sears put Grandview up by 10 points on a lay-up but then the Eagles started to chip away at the lead, pulling to within three points, 38-35, before Lopez put the 'Hounds back up by five, 40-35 at the end of the third period.
In the fourth quarter, the Greyhounds pulled away from the Eagles thanks to the offensive play of Sears and Lopez, and the defensive play from Frankie Medina. But, West Valley did make the game interesting.
With the 'Hounds up 56-43 with 2:14 left, the Eagles went on a 12-2 run and pulled to within three points, 58-55, after a Murphy McIntyre basket with 48 seconds left. West Valley's Bryan Peterson fouled Valencia on the inbound pass and the Greyhound sank his two free throws to put Grandview up by five. After another West Valley foul, Poteet made one-of-two free throws to make in 61-55, but Peterson followed with a three-point shot to make it a one-possession game with 19 seconds left.
The Eagles immediately fouled and Lopez made one-of-two free throws to put the Greyhounds up by four. Peterson got off a three-point shot with eight seconds left, but was off the mark. Medina grabbed the rebound for Grandview and the game was over.
"When we got to the (foul) line we didn't shoot that well," Parrish said. "That enabled them (West Valley) to come back.
"West Valley was setting some pretty hard screens but our defense stepped up at the end," said Parrish.
Lopez, who led the Greyhounds with 19 points, said Grandview played with more intensity than it did in the State tourney opening game on Wednesday.
"Coach told us to keep our heads up and play the way we've played all year long," Lopez said.
About Friday's game with Wapato, Lopez said it would be the biggest game of the Greyhounds' season.
"They're a good team," he said, adding the two teams split with each other this season. "It's not just another game. It's more special because it's against Wapato," Lopez added.
Parrish opted to play down Friday's match-up with the Wolves. "It's just another game for us," he said. "We just want to go out and play well tomorrow."
In addition to the 19 points Lopez scored against West Valley yesterday, Valencia pumped in 16 points for the 'Hounds and Sears chipped in 13 points, grabbing nine rebounds as well. Poteet finished the day with 11 points.
The Eagles were led by Peterson with 19 points and 10 rebounds. Teammates Parker Flynn, Jordan Lupfer and Glenn Akers each contributed 10 points for West Valley.