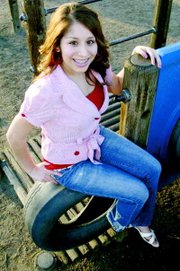 Jessica Alvarez, an 18-year-old junior at Sunnyside High School, knows what it's like to look up to someone, that's why she's participating in Sunnyside's Miss Cinco de Mayo Pageant.
"I know how it feels to look up to a role model," Alvarez said. "I feel I would be a good role model and I want to be able to give every girl that feeling to look up to someone and trust them."
She said Cinco de Mayo means a lot to her.
"It is a celebration of freedoms provided to my ancestors by our troops," she added.
If Alvarez is named Sunnyside's Miss Cinco de Mayo for 2007-08, she has a couple of options she's thinking of pursuing for her service project.
"I'm still trying to decide," she said. "It will either be working with Planned Parenthood, where we'll work with teens and let them know the facts. That way they're better educated so they (teens) can make better choices.
"Or, I would like to work with children at a local daycare."
She said she likes kids, noting she has two nieces and three nephews with whom she spends a lot of time.
Her role model is her older sister, Lorena, the second oldest sibling in her family.
"She's everything I want to be in life," she said. "She's accomplished a lot of the things I would like to accomplish in my life. She graduated from high school, received a Bachelor's degree from Central Washington University and she's very independent."
Alvarez has a 2.9 GPA at Sunnyside High and lists history and literature as her two favorite classes.
"I think history is important," she said. "We can learn a lot from it."
She likes literature because it's easy to understand.
Alvarez is involved at Sunnyside High School with Future Business Leaders of America, the prom committee and the pep club.
As for her hobbies, she loves to go dancing with friends. Dancing is something she's loved to do since the eighth grade.
"It's really fun," she said. "It's exciting to listen to a song you really like and dance with your friends."
She also likes to go shopping with her sisters, spend time with her nephews and nieces and swim when the weather allows it.
After high school Alvarez plans on attending a community college and then transferring to a university, but hasn't decided which one yet.
She plans to do a dance routine for the talent portion of the Miss Cinco de Mayo Pageant.
"I'm going to do a cumbia style dance to the music of the Kumbia Kings," she explained.
Why should Alvarez be picked as the new Miss Cinco de Mayo?
"Because I will do my best at everything I'm assigned to do and do it to the best of my abilities," she enthused.