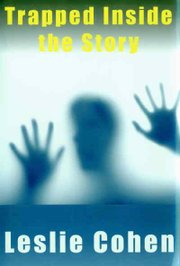 Trapped Inside the Story" tells a little girl's perspective on growing up as a Jew in Poland during the Nazi regime of the 1940's.
Author Leslie Cohen unfolds the account of Sonya Hebenstreit, a 13-year-old girl who lost her family during 1941.
Cohen tells the story based on her visits with Hebenstreit in compiling a biography.
"Trapped Inside the Story" takes its title from the fact that Hebenstreit created imaginary friends and conversations during her struggles to survive. In some instances she would have imaginary conversations with fairy tale characters to help guide her decisions in eluding the Nazis.
In a sense, Hebenstreit was literally trapped inside a story of her own making, creating a false identity and life story so she could escape detection as a Jew.
Compelling scenes unfold in the book, of beatings that she saw and experienced first-hand. Of bloated bodies hanging from apartment balconies. Of people who just disappear into the Nazi's grip, never to be seen again.
Then there is the mental torture of surviving amidst death and despair.
"What kind of person have I become?" Hebenstreit asks herself through Cohen's biographical muse. "I'm stealing from Jews just like me, who have nothing left and nobody to take care of them!"
As noted above, the first-person voice Cohen employs in the book is powerful in reliving Hebenstreit's experiences, giving them a sense of immediacy, a 21st century version of Anne Frank's diary.
The first-person voice is also used to describe Hebenstreit's eventual resettlement in Israel after the war.
The problem, is that Cohen is trapped inside her muse at times.
In relaying a biography in the first-person, Cohen at one point early in the book shifts to a third-person narrative in a somewhat abrupt away.
Also, in reliving Hebenstreit's memories, Cohen's first-person accounts sometimes have a stream of consciousness feel, rather than a tight narrative.
In addition, there is a continuing cast of characters flowing in and out of the young girl's life, so an index of people and dates would be helpful.
But those are forgivable, given the photos, maps and historical footnotes that accompany "Trapped Inside the Story," which is published by Level 4 Press and available at www.level4press.com
Most importantly, the book-published this year more than 60 years after World War II-is a reminder that Nazi atrocities did occur.
Atrocities so horrendous that many in Hebenstreit's family circle in Poland couldn't believe it when they heard of them during the very first days of the war.
"Hitler's speaking empty words," Hebenstreit's mother tells her in 1939, just after Germany occupied Poland. "I can't believe that the great German people, with the highest culture in Europe, really stand behind Hitler's slogans and speeches. It's impossible."
In this case, as "Trapped Inside the Story" vividly relates, the impossible sadly became very possible and all too real for millions of Jews like young Sonya.