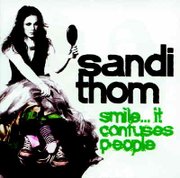 It's rare that I do a CD review and find what feels like a song that's all about me. Sandi Thom's "castles" from her smile...it confuses people CD hits the spot.
Not an easy feat, especially if you're listening to the music at your computer, trying to beat deadline.
"castles" is track 6 on the CD, and there is an irritating song or two before it. It's a song about life: sometimes it's better, sometimes it's worse, sometimes it heals, sometimes it hurts, so hail the morning wherever it dawns on me.
The music on this CD is uplifting. Uplifting in different ways on different tracks.
Her song "when horsepower meant what it said", track one, can really put you off in the first few seconds. If you hang in there, it's upbeat and energetic.
Her voice is beautiful and she's got great range. A few of the songs sound a little too much alike for my tastes and by impulse, I reach to go to the next tune.
"i wish i was a punk rocker (with flowers in my hair)" is an upbeat fun tune about longing to go back in the past to the peace revolution of the '60's and '70's.
All of the songs are co-written by Thom and, I have to say, the lyrics are wonderful on each one. It's like reading great poetry, if you don't mind e e cummings' style in terms of lack of punctuation.
Track seven is about falling in love but having doubts. She even romanticizes what could be mundane: we'll always keep the magic with tender loving care, when you need to change the light bulb, you won't hand me the chair.
Track 8, "superman", immediately evokes feelings of sadness. It's about simply wanting to be loved.
If you're a pensive person who enjoys thinking to a musical backdrop, Sandi Thom's CD is for you. Be careful though: she's bound to influence your mood whether it's upbeat or downtrodden.