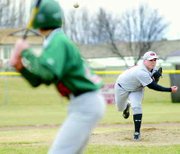 GRANDVIEW - Playing with a depleted baseball team, the Grandview Greyhounds dropped two games in a doubleheader with Chelan this past weekend, 10-4 and 14-4.
Grandview Coach Mike Chester said both teams were short so they used a mixture of varsity and junior varsity players to field the teams.
Tony Chester started for the Greyhounds atop the mound and pitched four innings, giving up two earned runs on five hits. After that, Joel Cardenas and Jeremy Stegeman combined to give up eight runs, seven in the last inning.
"Joel gave up three runs and was doing well until the seventh inning," Chester said. "Jeremy Stegeman closed and gave up three earned runs."
Adrian Jasso went 1-for-3 with an RBI for Grandview, and teammates Stegeman was 1-for-3, also with an RBI and Jake Waggner went 1-for-3 and had an RBI.
The second game only went six innings when Chelan went up by 10 runs in the sixth. Grandview was very low on pitchers and Stegeman was forced to start the game.
He pitched four innings and got better as the game proceeded but the Greyhounds couldn't recover from a seven-run first inning by Chelan.
"He did pretty good," Chester said. "He only gave up three earned runs out of the eight scored while he was in."
Valentine Martinez went 2-of-3 for Grandview with a double. Chester was 1-for-2 with a double and Stegeman went 1-for-3.
Grandview (0-2) will start league play next Saturday, March 17, at Toppenish at 11 a.m.