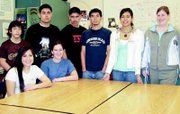 Several Sunnyside High School students have advanced to State competition following a Regional Science Fair in the Tri-Cities that concluded this past Saturday.
The question now is who will go, considering that the timing of the competition, March 30 and 31, comes right smack dab in the middle of several other activities.
Overall, Regional judges were incredibly impressed with Sunnyside's large turnout at the science fair. "The judges wanted to know how Sunnyside brought 24 students to the science fair and they wanted to know if (we) could do this again next year," said science advisor Joyce Stark.
Emily Shuttleworth took in the most honors for Sunnyside after winning awards from the U.S. Army, Structural Engineers Association, the American Institute of Chemical Engineers, the American Nuclear Association, the Tri-Cities chapter of the International Council on System Engineering, Sigma X and the Herbert Hoover Young Engineer Award.
Shuttleworth's project tested the compaction and permeability properties of sand.
Also from Sunnyside, Jacob Rogers took home recognition from the American Institute of Chemical Engineers, while his peer, Ali Velasco, took home recognition from Ricoh Corporation. Dianna Mendoza of Sunnyside received recognition from the Society of Women Engineers, the USDA and the Water Environment Federation, as well as from the Pacific Northwest Clean Water Association. Mendoza also took home the Stockholm Junior Water Prize, which advances her to State in that competition.
New this year was the Paul Burrows Award, chosen by the nano-technology scientist himself. Elvira Chiprez of Sunnyside received the award, Shuttleworth placed third and Brenda Barrios, Carlos Garcia, Cindy Gudino and Mendoza were all honorable mentions winners in that area of competition.
Now, says Stark, "On to State!"