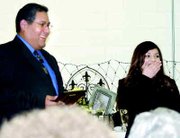 This past Saturday night was an evening of celebration and festivities at the annual Sunnyside Chamber of Commerce Awards Banquet and Auction held at Navarro's Community Center. The theme of this year's banquet was "Stars of the Community."
During the silent auction, community members had several items to bid on, such as wine, fishing gear, a digital camera and much more.
Fifteen decorated tables were spread throughout the facility. Each had a special touch given to them by various businesses throughout Sunnyside.
The crowd was pleased with the tables and enjoyed their meals, catered by Bon Vino's Restaurant.
Master of ceremonies during the banquet was Sunnyside Police Chief Ed Radder. "This is the 102nd banquet," said Radder.
The crowd responded with surprise.
A dessert auction brought in bids of $80 for a Banana Split Torte and the top bid of $90 was for a Triple Chocolate Cheesecake.
Valley Theater Company provided entertainment from their coming production of "The Sound of Music."
The first award recipient was Gene Carlyle. He won the Outstanding Senior Citizen award for his years running the Empire Electric Shop and serving on the Sunnyside School Board. "This award is really overwhelming and it captures my life," Carlyle said to the audience.
Port of Sunnyside Manager Amber Hansen and Sunnyside Police Detective John Chumley each received the Outstanding Public Official/Employee award.
Hansen received her award for her hours of dedication to the "...betterment of the Sunnyside community."
Chumley was recognized for his dedication on and off duty with the Sunnyside Police Department. "He has helped revamp the facilities (baseball fields) available to boys and girls in the area while volunteering countless hours coaching fast pitch and Cal Ripken," said Radder.
"I'm very, very surprised. I am very humbled and I am very honored," said Chumley upon receiving his award.
Two outstanding youths were recognized as "Stars of the Community." Radder asked the first youth to join him on stage, insisting he needed her help for the next award. Alejandra Bobadilla was surprised when Radder read from her nomination form, "Alejandra Bobadilla has been active in many clubs and service oriented activities." He read the various contributions and organizations Bobadilla has been involved in and her surprise was apparent.
The second youth honored was Angela Marie De La Barrera for her work as a volunteer at Sierra Vista Middle School, St. Joseph's Catholic Church and as a firefighter cadet.
The Outstanding New Business awards went to Bon Vino's Bistro and Bakery (small business), and Fiesta Foods (large business). Both businesses were recognized for their considerable improvements to the business community and contributions to the quality of Sunnyside.
Gary and Sue Hook shared the award for the Outstanding Business Person due to the employment opportunities they provide at their Sunny Spot restaurant and Car Wash, and for improving the appearance of the Mid Valley Mall. Their support was also noted as having a great impact on Sunnyside.
The Outstanding Health Care Person award went to Judy Herrmann, who has worked as a nurse in Sunnyside for more than 40 years.
The Outstanding Volunteer award recipient was Pamela Craig, recognized for her work with Red Cross.
Sunnyside Christian School teacher Sandy Vis was recognized as the Outstanding Educator for her dedication to education.