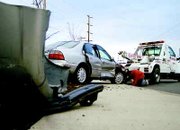 At approximately 8 a.m. this morning, March 12, the Sunnyside Police Department and Sunnyside Fire Department were dispatched to the scene of a two-vehicle automobile accident at Yakima Valley Highway and Factory Road.
The driver of a 2001 Hyundai reportedly ran a red light, hitting the passenger side of a 1997 Honda Accord.
No serious injuries occurred as a result of the accident and no one was taken to the hospital, said local officials.
Police and fire officials were unable to provide further information about the accident at press time.