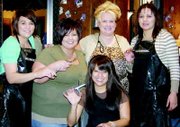 A wholesale and retail industrial supply store is coming to Sunnyside this year, and the city council agreed last night to contribute $25,000 to complete infrastructural improvements.
Kennewick Industrial and Electrical Supply (KIE) has been in business for more than 50 years and purchased two acres near Alexander Road, just east of the Darigold Dairy Fair, from the Port of Sunnyside last year in preparation to expand to the Sunnyside area.
The Port previously secured $176,000 in grants and loans from a group known as the Yakima County Development Association, or New Vision, which pledged an $88,000 grant and an $88,000 loan in SIED (Supporting Investments in Economic Development) funds to construct a road off of Alexander to access KIE's future building site.
In addition, the Port contributed $32,000 from its own funds to help with the improvements.
But that still left the road project $25,000 short.
Calling the city's $25,000 contribution the "final piece of the puzzle," Port Director Amber Hansen noted, "We anticipated that we would have a gap."
The city's share of the funds will come from three different sources: $5,000 from the general fund, $10,000 from the water fund and $10,000 from the sewer fund.
The city was able to help fund the road project because of a 1998 resolution that allows for contributing towards economic development.
In the case of KIE's new Sunnyside plant, Hansen anticipates the firm will generate $37,000 in sales tax to the city over a five-year period, create property tax revenue for the city of about $13,000 each year and create six new jobs with a total annual payroll of $225,000.
As both a wholesale and retail center, Hansen anticipates that KIE's Sunnyside locale will draw local builders and residents with home improvement projects.
Currently, she said, people are traveling to Yakima or the Tri-Cities to purchase home improvement products. And that, noted Hansen, "translates to lost revenue for the city and demonstrates a need not being met in the community."
Hansen said she anticipates a bid for the road project will be awarded in April, with work to start shortly thereafter.
Construction on KIE's 12,000 square-foot Sunnyside facility is expected to start this year as well.
"We're excited about having KIE here," Hansen said before last night's meeting. "I think it will be good for the community."
City council member Bruce Epps echoed the sentiment as council approved the project.
"It's great, it's attracting another business to Sunnyside," he said. "That's what we want."