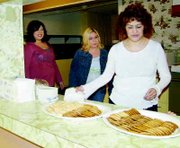 GRANDVIEW - With 13 events already booked, the newly opened Le Paris Salon Hall is off to a great start.
The new dance and reception hall, located on Division Street in Grandview, celebrated its grand opening this past Sunday, March 11.
Owners Rebecca and Martin Garcia were proud to showcase the hall and all the updates they have made in recent months. "We refinished the floors and it took us three weekends to do it," said Mrs. Garcia.
She said their first event is scheduled in April. "We have three bookings in June, two in July, one in August, two in September, two in October and two in November," she beamed.
She said one of the events to be held at the hall will be the Grandview High School Prom. "We are very excited," she stated.
The Garcias said the community has given them a great reception and there has been a lot of response since the initial announcement of their intentions.
"Some interest has been from my work customers, some from the article in the Daily Sun News and some through my mom," Garcia said.
Her mother, Emma Ochoa, is helping the business by providing Mexican food catering services for those interested in securing a catering service.
Another service available to those wishing to rent the hall are provided by Judith Campuzano. Campuzano will decorate the hall at an additional cost to rental fees. Some of her decorations were on display during Saturday's event. And, she was on hand to answer questions for those interested.
Of course, decorating services and catering services from others are welcome when renting the hall.
"This is a big investment and we hope to continue improvements as we see the returns on the hall," said Mr. Garcia. "It has been a labor of love. I have spent more time on the hall than at home, lately."
The Garcias are also hoping to add a children's play area to the hall. "That way children can have somewhere to play."