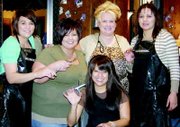 GRANDVIEW - Knowing the power of a healthy self-esteem, the ladies at Grandview's Mystique Salon are going to donate their services on Monday, March 19, to make cancer patients glimmer and shine.
According to salon artist Tammy Leyendekker, cancer patients who've received chemo in the past year will get a free haircut, as well as permanent eyelash and eyebrow enhancement (tattooing).
That's not all. Anybody who wants to donate their hair to Locks of Love will also get special treatment. "We'll cut their ponytail and give them a new hairstyle," said Leyendekker.
Locks of Love is an organization that creates wigs for children suffering illness that has cost them their hair.
This special free-day is by appointment only and cancer patients must show some sort of proof of chemotherapy treatment.
Locks of Love clients must have at least 8 inches of clean, virgin hair, which means no color and no perms. Whoever donates the most hair will receive a $100 gift certificate to the salon.
Salon owner Yoli Mendoza said her six-year old daughter will be one of the first clients of the day. "She's so excited," she said.
Both Leyendekker and Mendoza understand how devastating cancer can be. Leyendekker has lost a staggering 19 family members to cancer, as well as some friends. Mendoza's grandmother succumbed to the disease as well.
This is a dream come true for Mendoza. "I've had it in my mind for years and years," she says, adding that, now that she owns her own salon, she's able to.
Lots of volunteers will be on hand at the event too. Some have been cancer patients and some just simply want to lend a hand to the cause.
All six stylists in the salon are donating their time that day, a feat made easier by the fact that normally the salon is closed on Mondays.
Both Leyendekker and Mendoza agree it feels empowering to offer the free-day. "We're able to do something," Mendoza said. "I just want to give them back their self-esteem."
The salon is located at 807 W. Wine Country Road. To make an appointment, call 882-1907. Those planning to have permanent enhancement work need to speak specifically with Leyendekker.
Lynda Jo Gross/Daily Sun News
Believing in the power of a healthy self-esteem, the ladies at Mystique Salon are donating their services on Monday, March 19, to cancer patients that have had chemo in the last year and clients that want to donate a minimum of eight inches of virgin hair to Locks of Love. All services are free that day, but it is by appointment only. Pictured (back L-R) are salon artists Carolina Martinez, Sherry Pina, Tammy Leyendekker, Hilda Brabo and Yoli Mendoza (seated).