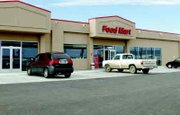 A new Conoco station has opened up for business in Sunnyside at 1829 South First Street. But perhaps what makes the gas station unique is that it sells E85, an ethanol based fuel.
According to RH Smith Distributors wholesale fuels vice president Rod Smith, Portside Conoco's fuel distributor, E85 is 85 percent ethanol and 15 percent gasoline. "The ethanol comes from farmers," he said.
"This is a new, clean environmental fuel," Smith said.
According to the National Ethanol Vehicle Coalition, there are only two public stations that carry E85 and there are three private facilities, as well as only one facility for government owned vehicles only.
Smith said that the fuel is used in what are called flex-fuel vehicles. "(Flex Fuel) vehicles can run on both regular gas and E85," he said.
Smith said that he hopes to contract with two or three local ethanol producers in the next year. "We get it from wherever we can buy it," he said.
Smith said that ethanol fuel is a big thing in Washington right now and there's a coalition of farmers, wildlife enthusiasts and politicians pushing for owners of 10 or more gas stations to offer it.
Smith said his company his building another station in the Tri-Cities that will also be open to the public.
Said Smith, "We are very proactive in the region promoting environmentally clean fuels."
Smith lauded the work of Bestebreur Construction, which built the new station.
"It's great to see local businesses coming together to make these fuels available to the public," he said.
Smith said the cost of E85 fuel is comparable to the price of super unleaded.