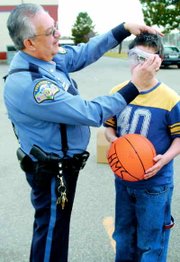 Harrison Middle School students saw first-hand yesterday the impacts of drug and alcohol.
Literally.
Students tried on goggles altered to reflect the vision of someone who had consumed anywhere from two-and-a-half to five alcoholic drinks. With the goggles on, they were then asked to perform routine tasks such as shooting a basketball, throwing a ball or even walking.
It was all part of Drug and Alcohol Prevention Month underway throughout March in the school district, a partnership between schools, the Sunnyside Police Department and the Yakima Valley Farm Workers Clinic.
"We want to teach young people that school and drugs don't mix," said School Resource Officer Chico Rodriguez. "There are a lot of fatalities every year because of drugs and alcohol."
Rodriguez said during the eight years he has been involved in the goggle program, students have later expressed appreciation to him for the opportunity to see with their own eyes how drugs and alcohol can distort life.
"It's a really eye opening experience for a lot of them," he said.
The anti drug and alcohol message is being spread throughout the Sunnyside School District to students 12 and older. Rodriguez said a similar goggle program will be conducted next week at Sierra Vista Middle School.
The message appears to be getting through.
"It was like there were three different hoops out there," Harrison student Logan Jones said after he badly missed a basketball shot attempt while wearing the goggles. "It's not fun to drink."
John Fannin/Daily Sun News
School Resource Officer Chico Rodriguez helps Harrison Middle School student Alex Hernandez put on a pair of goggles that imitate the loss of control when a person has consumed alcoholic beverages. The effort is part of a school district-wide effort this month in drug and alcohol prevention.