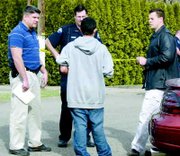 GRANDVIEW - Gunshots rattled a Grandview neighborhood yesterday afternoon in which a 13-year-old boy was shot in the foot.
According to Grandview police, a group of teens was gathered in the back yard of a home located in the 500 block of West Third Street and Avenue E.
As a white Honda Acura carrying three or four passengers approached, gunshots were fired and the group of teens dropped to the ground behind a fence. The gunshots continued.
The vehicle fled the scene and the wounded teenager was transported to the hospital.
According to Grandview Detective James Driscoll, the shooting appears to be gang related.
The shooting is still under investigation and anyone with information is encouraged to call the Grandview Police Department at 882-2000.