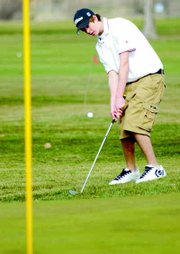 Grandview hosted yesterday's season opening, three-team jamboree at Black Rock Creek Golf Course, but it was Prosser and Sunnyside that stole the show.
Prosser won top honors in the boys team competition, shooting an aggregate 173 in the nine-hole competition.
Individually speaking, it was Sunnyside's Justin Bos who set the pace. The junior toured Black Rock Creek's front nine with an even-par 36. A 3A State tournament qualifier last season as a sophomore, Bos bested the next closest competitor by a full six strokes enroute to capturing medalist honors.
The Grizzly golfer's even-par 36 was the lone highlight for Sunnyside, though. Sunnyside finished with a team score of 247, well back of Prosser's 173 team score and Grandview's runner-up 219 performance.
Not really unexpected, according to Grizzly Coach Glenn Braman, considering Sunnyside faces a rebuilding year this season.
"Other than Justin (Bos), the five kids we have out for the team have pretty limited experience when it comes to golf," said Braman. "But they're all hard workers. They all want to get better, and they're working hard every day.
"And, they're all underclassmen. That means we're building a base for the next couple of years," said Braman.
A.J. Visser was the second low scorer for the Grizzlies Tuesday afternoon. He got around the front nine with a 60. Teammate Nick Navarro, who like Visser can count the number of complete 18-hole rounds they've played on one hand, finished with a 77. The other member of the Grizzly boys team who competed yesterday was Joe Villanueva, who carded a 74. Braman said Villanueva golfed quite a bit as a youngster, but is just now getting reaquainted with the game.
Prosser, in winning top honors on the boys side of the jamboree, got a pair of six-over-par 42's from Mark Hancock and Tommy Contreras.
The second place Grandview boys were led by Aaron Riggs, who carded an 11-over 47. Rounding out the team scoring for the Greyhounds were first-time golfer Kyle Lucas with a 55, Kyle Womach with a 58 and Chad Larson with a 59. Jay Parker also competed for Grandview yesterday, but his 63 was not applied to the team total.
Although team scoring wasn't officially kept yesterday in the girls jamboree, it was Prosser that stole the limelight. Lady Mustang linksters Candice Cooper and Amy Bradbury shared co-medalist honors by firing 61's. Prosser also got a 64 from Adrienne Bousquet.
Tying Cooper and Bradbury for the low girls round was Sunnyside's Vicky Castro with a 61 of her own. The Lady Grizzlies also recorded a 79 from Hannah Vlieger and an 83 from Emily Slinker.
Three of the four girls on the Grandview team this season competed yesterday. The low Greyhound scorer was senior Alexis McLean with a 75. She played golf for Grandview as a freshman and sophomore, but did not turn out her junior season.
"It's nice to have her back playing," said Grandview Coach Dave Uggetti.
Also competing for Grandview yesterday were Hannah Ziegler (78) and Amanda McLean (85).
Grandview's girls team is scheduled to compete at the Hanford Invitational this coming Friday. The boys will be at the Othello Invitational this Friday.
Sunnyside's boys were originally scheduled to play at the Kennewick Invitational this coming Friday, but have scratched that competition off their schedule. That tournament has been replaced with a competition at Cle Elum's Suncadia course on Tuesday, May 1. The Grizzly boys and girls' next competition will be the league opener on Thursday, March 22, at Kennewick's Canyon Lakes Golf Course.