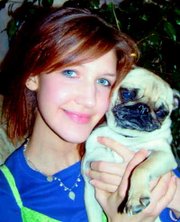 Knowing full well she has the power to make a difference, Outlook's Jordie Ricigliano will host a Dogs, Desserts and Donations Day at The Sunny Spot Car Wash and Pet Service in Sunnyside this Sunday, March 18, from 11 a.m. to 4 p.m.
What makes Ricigliano stand out is that she's not working on a school-based project, rather she's got a heart dedicated to service.
"I've grown up on a farm, so I've always loved animals," she explains. "I commute to Zillah (High School) and every day, I constantly see animals on the side of the road-either hit, wounded or abandoned.
"It breaks my heart," she says, simply.
Through a People for People ambassadorial program, Ricigliano has gained the confidence to seek out her own community service projects.
Knowing that she wanted to help animals in some way, she called around to various veterinarian offices. Through that process, she found a Prosser pet-rescue shelter called "A Paw Up."
Immediately, she was moved by the story of owners Jeff and Yvette Fitzjarrald, a couple who, despite their small house, takes in abandoned animals, feeds them, spays and neuters them and sends them on their way to good homes.
"She (Yvette) worked for animal control and took in animals. From that, it blossomed into a whole new thing," says Ricigliano, adding that despite the fact both of them have full-time jobs, they find the time to run the shelter and adopt animals out.
"These people are so amazing to me. Their house is quite small, yet you can tell the animals are so well cared for. They have to have big hearts to not let these animals go by the wayside."
The funds she raises through pet washing this Sunday will go to the Fitzjarralds. She said that any checks written will go to the Pet Health Clinic so that the couple can continue to spay and neuter animals they take in, as well as provide shots. Donations, like dog food (Maximum or Kirkland), bedding (old blankets, towels or sheets), dog crates and any kind of dog paraphernalia will be gladly accepted and greatly appreciated.
There is no set cost for the dog wash, it's by donation only.
The funds she raises by selling desserts, however, will go towards her trip to Europe this summer as Yakima Valley's Student Ambassador through People for People.
Her involvement with the People for People organization began at the beginning of this school year. Ricigliano knew nothing of the program until she learned she'd been nominated for it.
"I just took to it," she says. "It's in-line with my passions, what I love to do and what I want to do."
The goal is to travel abroad and best represent the United States. While in Spain, France and Italy, Ricigliano will meet political figures, which she's looking forward to.
Motivated by her participation in the program, she even formed a current events club at her high school this year.
The budding photojournalist and writer is quite astute at seeing the big picture and weaving her talents and passions into worthy projects. Those that wish to sponsor her ambassadorial trip will receive a calendar featuring pictures she takes while she's abroad.
And, of course, Ricigliano is willing to pet-sit to earn money for the trip abroad as well.
Ricigliano is the daughter of Susan and Frank Ricigliano of Outlook. Mom Susan works at Excel Dairy in Sunnyside.