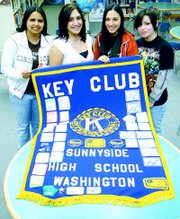 Sunnyside High School's Key Club has spent so much time and effort raising money and garnering support for others that they overlooked something: the fact that they need funds for their annual convention.
According to club members Hali Soto, Alyssa Longoria, Monica Martinez and Holly Ohler, Key Club raises money one year for members to go to convention the following year. The ladies said that they've depleted nearly all of the funds and need to raise more.
Martinez said the annual convention helps students who are upcoming officers for the next year. Longoria added that it's a great opportunity to meet people, while Soto's looking forward to associating with students from other schools.
"It's just a great opportunity for us," says Longoria.
"At convention, your life changes," Ohler said, adding that representatives from organizations like UNICEF and the American Cancer Association attend convention with thank-you messages for the students who have raised funds through various activities.
"Just going and hearing what it is they have to say forever changes your life because you realize that with that $500 or more you managed to raise, you made a difference, no matter how small it might seem, in some life," Ohler said.
The club's been incredibly active this year, raising funds for a cancer stricken former school district employee and UNICEF's Kicking AIDS Out Of Kenya program, she added.
When asked what to say to encourage people to donate to the club, Longoria said, "Our club helps better the community. It brings people together. Convention helps us help them."
A dozen or so Sunnyside students will attend this year's convention April 13-15 in Portland, Ore.
Longoria said, "I hope people can continue to support us and our high school. We're trying to make our community better."
To donate money to Key Club for next year's students, call the high school at 837-2601.