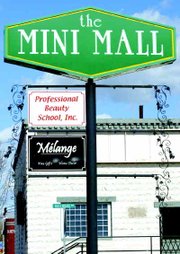 The Mini-Mall in Sunnyside, located at 214 S. Sixth Street, has been owned by C.F. Flower, Inc. since 1949. At one time it was a bowling alley and for a time it was a restaurant.
In 1976 the building was split into smaller units and the first business to move in was the Professional Beauty School, Inc., which is still there. Other businesses that have made the mini-mall home have been a cafe, a Thai restaurant and gift stores.
Currently, only the beauty school and Melange, a fine gifts store, occupy the mall, but it will soon be down to just the beauty school as the owners of Melange has plans to move out.
A representative of Melange did not want to talk about the move, explaining it was just too early.
But Bill Flower, a board member of C.F. Flower, Inc., confirmed he's been given notice by the owners of Melange, but said he doesn't know when they will be leaving.
"They can take all the time they need," he said.
He said the owner of Melange is remodeling a small cottage near the Wal-Mart store in Sunnyside and he wishes her luck.
Being down to just one business in the Mini-Mall doesn't seem to bother Flower.
"Every downtown has its ebbs and flows," he explained. "Right now, businesses in downtown are now flowing out. It's something we just have to expect."
He added the downtown area started to become a different business community about 20 years ago.
He now looks at the situation as a chance for C.F. Flower, Inc. to re-configure the mini-mall, and added he will be looking for new tenants.
Flower said he would like to see another restaurant move in.
"There is already a lot of equipment already in place and available for that," Flower said.
Flower also said he thinks now is a good time for downtown property landlords to get together and discuss a downtown renovation.