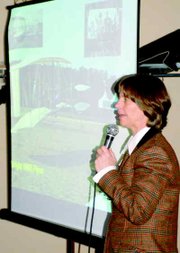 Outlook native and retired NASA shuttle astronaut Bonnie Dunbar recalled her childhood growing up on a farm and admiring the night sky.
"People ask me how I got into space," she said of her rural roots. "All I had to do was look up and see space. I felt closer to space than I did to the big city."
Dunbar's comments were part of a wide-ranging presentation she made to Nouvella Club members on Thursday during the group's monthly luncheon at Snipes' Restaurant.
She opened by recounting a brief history of flight, from mythical Icarus to the Wright brothers to Amelia Earhart to Bill Boeing.
She also praised the educators in Outlook and at Sunnyside High School for guiding her towards higher level math and science courses to prepare her for her goal of working for NASA.
"I made my first (job) application to NASA at age 18," Dunbar laughed. "I got a nice letter back that said a college education would help."
Dunbar went on to the University of Washington and was eventually hired by the Rockwell corporation to work on the first space shuttle.
Not long after that NASA tabbed Dunbar for what would become five space shuttle missions between 1985 and 1998.
Her career in space spanned the relatively primitive Soviet Mir space lab era to early planning for today's international space station.
After retiring from NASA, Dunbar found another niche in space and flight much closer to home as President and CEO of the Museum of Flight in Seattle.
While celebrating the history of flight, Dunbar told Nouvella members that she also sees the museum as a way to encourage youth to gain interest in science and engineering.
She expressed urgency in drawing more youth into engineering-whether it be designing a building or an irrigation system-noting there is a pending shortage of engineers in this country.
Dunbar said the U.S. is facing a situation where it will have one-eighth of the engineers China has and one-fourth of the engineers in India.
The museum runs classroom certificated programs for both students and teachers to keep the vision for space and science alive. That includes one of the sites where current operations on the space station can be monitored.
Just as Dunbar looked to the night sky to trace the stars, she said children and people of all ages, including her mother, are now tracking the space station among those same stars.
Dunbar noted, "When the children learn there are always anywhere from three to 10 people on that station they get excited."