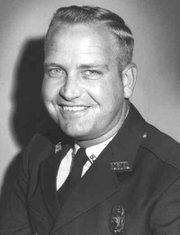 Former Sunnyside Fire Chief and police officer Harry Steffens succumbed to cancer this past Wednesday (March 14). He was 73.
Born in North Dakota in 1934, Steffens and his family moved to the Lower Valley, where he graduated from Mabton High School in 1952.
His wife, Edna Steffens, said his family moved to the Lower Valley for job opportunities and Steffens' father was able to educate all eight of his children with the work he found.
Steffens joined the U.S. Navy after high school and served for a time aboard the U.S.S. Delta. He met Edna while he was stationed at Pearl Harbor in Hawaii.
"We met at a friend's wedding," she remembered.
Edna was a friend of the bride and Steffens was friends with the groom. Edna said she was in the bridal party and was a part of the receiving line greeting the guests. As he walked through, Edna remembered, "...he just wouldn't let go of my hand."
There was something that drew her to him though, too.
"He was just so cotton-pickin' cute," she said.
The two were married just six months later at Pearl Harbor on May 4, 1956.
Edna, a Canadian nurse working at Leahi Hospital in Honolulu, move backed to Mabton with Steffens in 1957 and both took jobs in Sunnyside. Steffens became a member of the Sunnyside Police Department.
Steffens worked as a volunteer firefighter as well when he was a police officer and when he was offered a full-time position with the Sunnyside Fire Department, he decided fighting fires was more to his liking than fighting crime.
Edna said he started out in the lowest position possible with the fire department and worked his way up to chief in 1979. He retired as the Sunnyside Fire Chief in 1982.
"He really liked his job and he was determined to do it well," she recalled.
His two main hobbies in life were hunting and fishing. He was also a reader.
"He read lots of books," Edna said. "He also liked to putter around the house. He was always busy, always doing something."
Last May the couple celebrated their 50th anniversary and went on a cruise to Alaska, where they could enjoy the beauty of the outdoors.
"He enjoyed the outdoors," Edna said. "His last few years he would go hunting with his buddies and not even bring a gun. He just enjoyed picnicking and being with his buddies.
"He was a quiet fellow who really enjoyed his friends," she added.
A funeral service will be held for Steffens Monday, March 19, at 11 a.m., at Smith Funeral Home in Sunnyside. Burial will follow the service at Lower Valley Memorial Gardens.