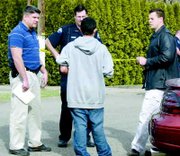 GRANDVIEW - A Grandview leadership team comprised of city and school staff, as well as proactive community members met last night (Thursday) to come up with action plans to address seven key issues identified at a previous meeting.
At that meeting, the group officially changed their name to Grandview United and identified seven areas of interest: leisure time activities, crime, family issues, parental responsibility, mentoring, economic development and community pride.
Prior to breaking out into small groups to identify action plans, the group heard of one success story that's already taken place.
The GMC Training Institute has earned grant funding as a direct result of involvement in Grandview United.
GMC leaders identified an action plan called Fast Track to help youths in the community that includes fostering independent work and leadership skills, computer training and after school academic training for youths ages 15 to 18 who are either currently enrolled in school or a program to get their GED.
GMC received $41,000 per year from the Department of Child and Family Services under the street youth earmark.
The program is set to start April 1, and GMC is currently accepting referrals of area youth. To make a referral, call GMC at 882-2523.
Prior to the break out sessions, GMC owner and facilitator of the night's meeting, Gloria Mendoza, said, "I challenge each one of you here today...to think how we can participate, what we can bring to the table as individuals."
Evidently, it stuck.
For one thing, the showing at this meeting was far greater than the previous meeting. Not only did regular community leaders attend, but so did entire families. Several youth also turned out.
After 45 minutes of action planning, the following plans are complete with timelines:
-asking immediately that an addition be made to the current monthly beautification awards to include recognizing schools and youth that work to upkeep the grounds.
-try to develop a United Youth Church Program; ministerial associations will be contacted and letters will be written to local churches to garner support. This will take place in April. In May, follow up work will ensue to see who's on board.
-a community member stepped forward to take on the task of learning what's involved in the Big Brother/Big Sister program and report back at the next Grandview United meeting.
-work will be done to further promote existing leisure time activities. Four community members took on this task, with efforts to start immediately.
Also discussed at the meeting were ideas that need future planning: creating a Grandview Economic Development Association, community members being active in the city's efforts to examine and, if necessary, revamp city codes (this has to do directly with parental responsibility in terms of holding parents more accountable by law), developing a community clean-up crew and identifying a group of willing individuals to help create community days, and recognizing outstanding citizens through local media.
The next meeting will take place on April 12 at 7 p.m. at the Grandview High School cafeteria.
More like this story